Using Pleo – Podimo
How Pleo helped Podimo save a week on processing reimbursements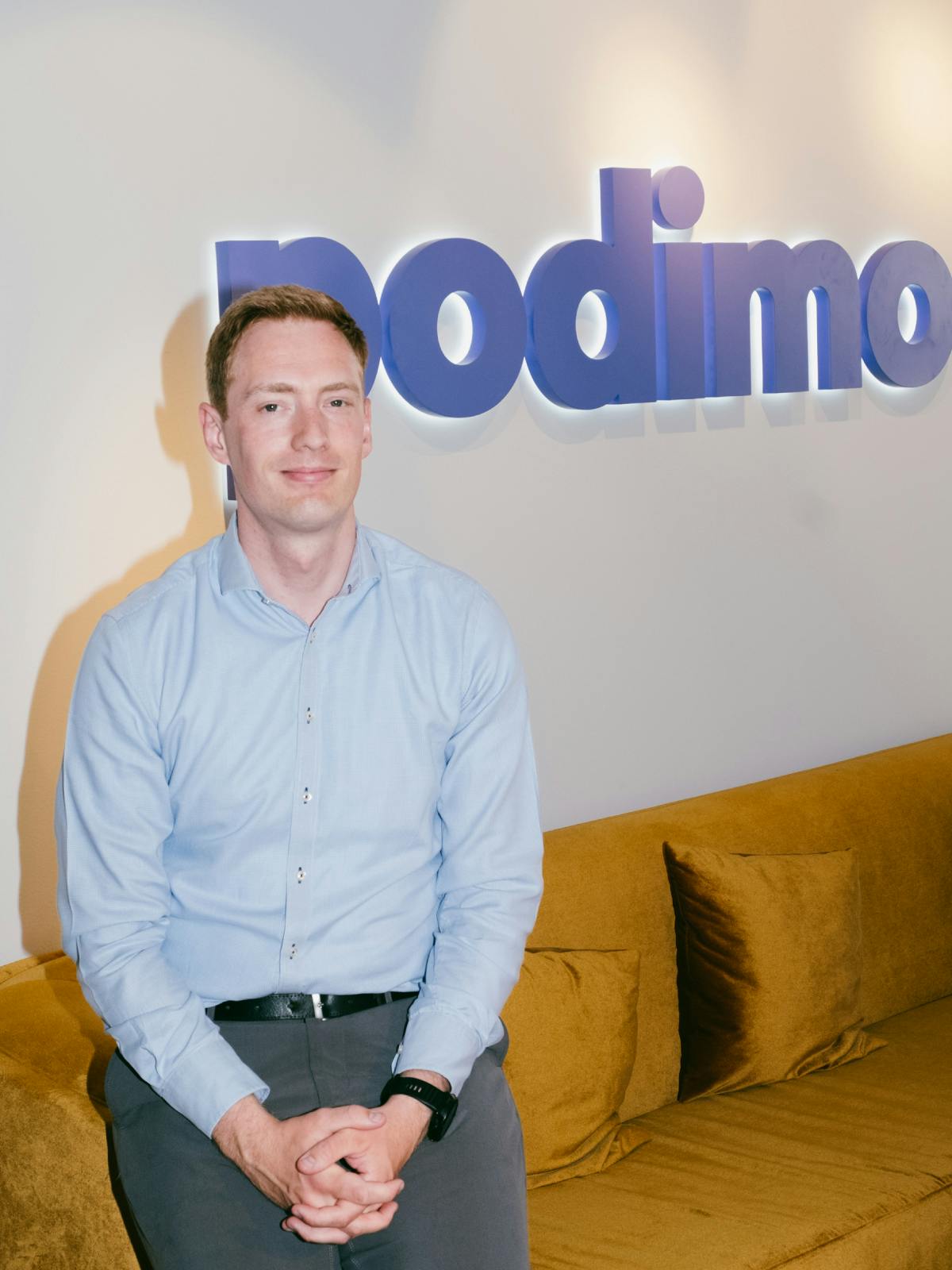 The challenge
Say hello (or hej) to Podimo  –  a premium audio entertainment subscription service offering original and exclusive podcasts and an amazing collection of audiobooks. Today, the team is made up of 250 people across multiple locations around the world. 
Founded in Copenhagen in 2019, Podimo has been using Pleo for many years. Implemented early into the business, Pleo has been a key player in establishing processes when it comes to travel and expenses. And, as the company grew, management of each entity's spend was something the business struggled with, especially when there were only two people in the finance team in Podimo's early days.   
Manual and clunky reimbursement process

With such a global team, there are plenty of reasons for people to travel. But after every trip, sat the daunting spreadsheet that was required to be filled out for the reimbursements of travel expenses. This easily required Martin's team a quarter of an hour to manage, process, and book each reimbursement sheet.

Disconnected processes between entities

As Podimo continued to expand into new markets and open new entities, it was becoming an impossible task to manage all the spending, in addition to ensuring that the right controls were in place and remembering all the different log ins for the banks of each entity.

No company cards for travel expenses

Not only did it take up a lot of the finance team's time to process manual reimbursement sheets, but employees were left waiting at least a week to receive that money back in their pockets. Podimo knew that they needed to find a reliable company card provider that employees could use to make their business travel smooth sailing.
The solution
A spending solution that captures every single expense in one platform, no matter where an employee was traveling or what market an entity is operating in.
"When opening a new entity alongside using Pleo, the opening of that entity went much more smoothly because our local manager didn't have to file expense reports that required [the finance team] to manage and process and so on." 
The results
Being the Director of Finance of a scaling company stretching across various countries, it goes without saying, Martin has better things to do than approving travel expenses and logging in and out of each entity's bank accounts in order to get a holistic overview of Podimo's spending. Pleo has not only helped free up precious time and gotten reimbursements to employees quicker, but it has also led to higher productivity within his team.
Greater control and visibility of entities

Using Pleo's multi-entity feature, Martin now has a complete overview and better ownership of the total spend across the company. Without having to log in and out of different accounting realms in their ERP system and onboarding different tooling – now he can see it all in one spot. Not to mention, set up spending controls for all entities as well as within multi-entity teams using Pleo.

Higher productivity

After implementing Pleo, Martin saw an increase in productivity straight away – both in the finance team and other teams across the company since they no longer had to spend time on filling out those reimbursement spreadsheets. He's even received direct feedback: "Hey! That Pleo tool - that's fantastic! It just solves everything."

No more out-of-pocket employees

Remember that minimum week-long waiting time to be reimbursed? With Pleo, now all it takes is a click of a button. With almost 3,000 transactions being processed a year through Pleo, Martin and his team have saved tons of time which can now be dedicated to more important tasks. And by adding their personal bank cards to the app, employees are now being reimbursed straight away.
Get started with Pleo
Join 30,000+ customers already using Pleo to stay on top of company spending. Start your free trial.
Powered in the UK by B4B partnership, available soon