Using Pleo – Humaans
How Pleo helped Humaans more than halve their end-of-month admin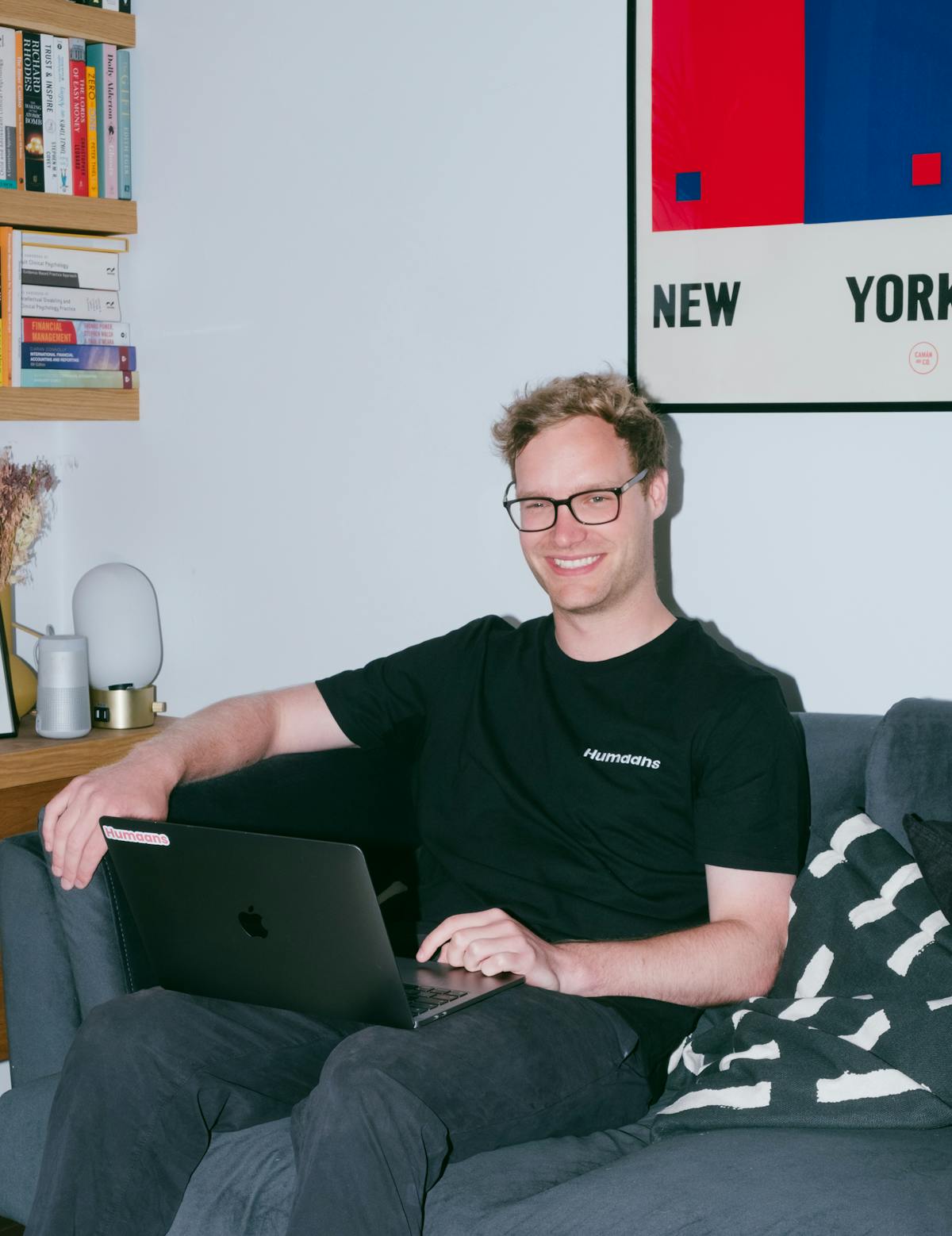 The challenge
An HRIS software scale-up founded in 2020, Humans is on a mission to make managing people as seamless as possible. The team is based both in London and remotely, which brings an interesting dynamic when it comes to employee expenses. With people spending in all corners of the world, it can be difficult to keep an eye on where money is going – particularly when they factor in quarterly in-person socials which require significant spending on travel and accommodation. 
With such a lean finance team, a lot of the challenges arise in the time it takes to complete manual admin which creates inefficiencies. Before getting set up with Pleo, Robbie Osborne, Head of Finance at Humaans, was growing frustrated with the following challenges:
Lack of freedom to spend when needed

Having to ask the CEO for their card every time someone needed to buy something for work – whether that's getting a coffee or subscribing to a new tool – just wasn't efficient. Similarly, people using their personal cards and expensing purchases weeks after created its own problems. 

Difficulty gaining visibility over every team's costs

With remote workers spending regularly (and sometimes recklessly) and managers procuring different software left, right and centre, keeping an eye on outgoings was tricky. Plus, chasing invoices and receipts was cumbersome as they were living across different people's inboxes, with no central place to store and view them.

End-of-month reconciliation took forever

Before Pleo, the finance team at Humaans found themselves spending up to 20 hours each month on manual reconciliation. People aren't perfect which meant receipts were often forgotten or misplaced (up to 100 every month, in fact) which only prolonged the time it took for finance to collate the numbers.
The solution
An all-in-one platform that captures every single expense in one process, giving the finance team valuable insights and visibility over past and potential future costs.
"Pleo helps us maintain that central element of visibility, so finance can understand exactly what people are spending, while [employees] have the freedom to do that without onerous restrictions and cumbersome processes." 
The results
From making sure people are paid on time to providing sales with data and juggling the chaos of scaling a business, Robbie has a lot on his plate. The last thing he needs is to spend unnecessary time managing expenses and wading through spreadsheets. Pleo works to automate these time-consuming processes, freeing up Robbie's time to make sure the finance team is as efficient as possible.
End-of-month made easy

For Humaans, digitising dull financial processes has cut the time they spend on manual reconciliation to less than 6 hours each month. The monetary value of this time saving is worth every penny of the cost of using Pleo.

Trend spotting

Data is key for organisations, but it's only as good as the decisions it helps to drive. Pleo surfaces important insights to the finance team at Humaans, helping them to identify trends and take action, whether that's increasing spend or cutting back in certain areas.

Employee empowerment

Pleo helps Humaans empower people across the organisation to make the payments they need quickly and efficiently, while maintaining control centrally. Instead of building up hundreds of out-of-pocket expenses and having to wait to be reimbursed, Pleo gives employees the freedom to spend when they need to.

Greater accountability

Because of the trust the company puts in employees by giving them a Pleo card, they feel an element of accountability in return. People are reluctant to spend frivolously or unprofessionally knowing that they have to submit a receipt, category, tag and a note to provide context.

No more missed payments

Thanks to Pleo Invoices, Humaans has been able to mitigate those fringe scenarios where a supplier payment is missed and they risk being cut off for good. Real-time tracking means they can see the status of each bill and schedule payments when it suits them.
What Pleo provided
Quick onboarding
Get set up with Pleo in a matter of minutes.
Payment cards for employees
Virtual and plastic Pleo cards to buy anything needed for work.
Spending limits and rights
Custom rights and limitations for each employee on the team.
Receipt matching
Categorised and matched their receipts as the purchase happened. 
Real-time dashboard
Stay on top of all company spending in real-time.
Accounting integrations
Avoid repetitive procedures, connect Pleo with your accounting software.
Get started with Pleo
Join 25,000+ customers already using Pleo to stay on top of company spending. Start your free trial.